Members of the  Executive Council of Shri Shivaji Education Society, Amravati (Parent Trust)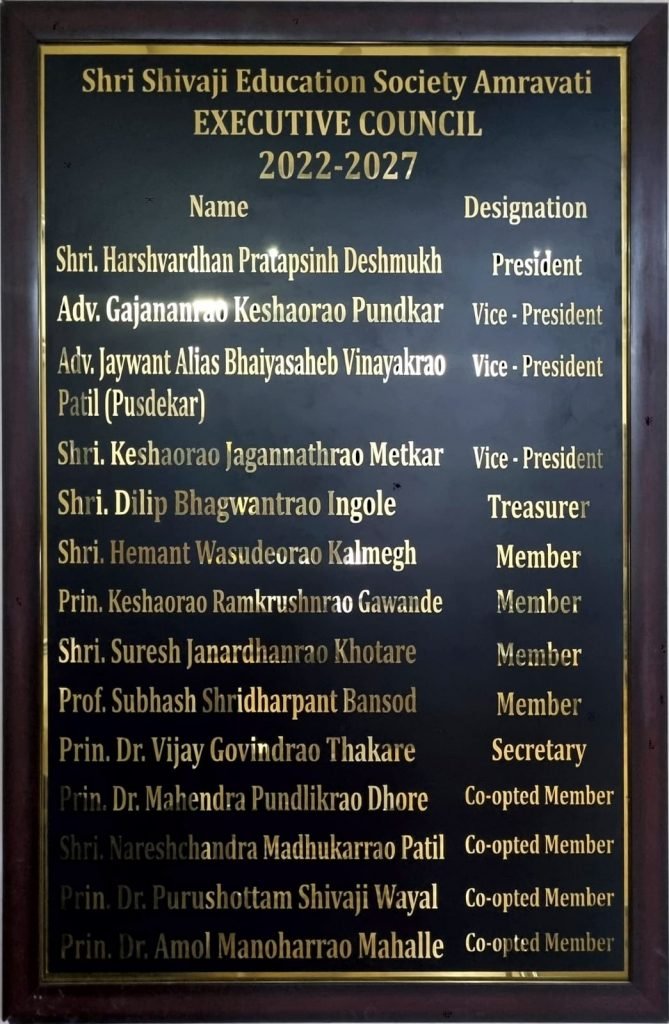 MISSION
Technical education for the individual, social and national development with global acceptance, by providing the relevant infrastructure with due consideration for our culture and the environment.
VISION
In full obeisance to the vision and foresight of Dr. Panjabrao alias Bhausaheb Deshmukh, this institute will strive tirelessly to educate and qualify the students from all the strata of the society, who are future engineers and technocrats, to take up challenges of modern era so that they are nationally and globally accepted in the application of their skills and knowledge to the benefit and development of the society.
College of Engineering & Technology, Akola is central India's premier multi disciplinary Engineering institute engaged in education, Applied research, training and consultancy services which focuses clearly on Engineering
Education at U.G. level. COETA was established in1983 and is affiliated to Sant Gadgebaba Amravati University, Amravati (NAAC accredited). It is recognised by the Govt. Of Maharashtra and the All India council for Technical Education (A.I.C.T.E.) New Delhi and council of Architecture. The college is situated in a quiet and peaceful part of the city with a teaching & learning environment.
It is in the close proximity of Agriculture University, Industrial Area, Dental College and upcoming Sports & Health complex on NH. No. 6. At Akola. College has 39 acres of land and total built-up area is above 1 Lac thirty thousand sq. Ft. It has well planned, comfortable, attractive palatial building for administration, teaching, work shop, library, canteen, conferences. THREE COURSES HAVE BEEN ACCREDITED BY NBA IN 2006. Its experienced, highly qualified staff & stable faculty is the soul of the college which is after the continuous over all development of students. Alumni of college have a large presence in industry and other academic institutions have good reputation and are possibly technical leaders In their industries. Good success rate in industry, depth of knowledge, discipline, over all growth in personality, brand name all make it possible for pass out students to have best opportunity of placement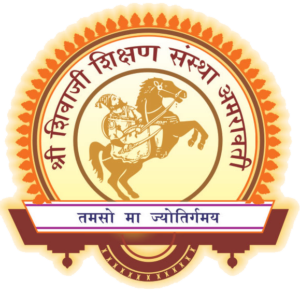 SHRI SHIVAJI EDUCATION SOCIETY, AMRAVATI
ESTD: 1932
Dr. Panjabrao alias Bhausaheb Deshmukh
(1898 - 1965)
Bar - at - law
First Union Minister of Agriculture of Independent India
Krishi Ratna
Founder of Shri Shivaji Education Society, Amravati.
Founder President of Bharat Krishak Samaj.
Hon'ble Shri. Harshavardhan P. Deshmukh
President
Shri. Shivaji Education Society, Amravati
Hon'ble Shri. Harshavardhan P. Deshmukh
President,
Shri. Shivaji Education Society, Amravati.
Dear students,
It is my great privilege to reach to you. It gives me great pleasure to extend greeting from Shri Shivaji Education Society, Amravati.
A glance at the information will highlight the excellent infrastructure and environment. It will also reflect this meticulous care taken in maintaining high academic standards through our well qualified and experienced Engineers and Architects.
I am proud to mention that, we have adopted excellent practices, methodology and equipment's in the functioning of the college.
Three of college courses are accredited and remaining in the process of accreditation. The college is started in the year 1983 and celebrating its silver jubilee next year.
The ambiance of the college is students centric and our students have always been my first priority. Nurturing the potential of students, giving them exposure to the latest technology and enabling to become committed to the cause of society is our prime goal.
I welcome you to our college.
Shri. Harshavardhan P. Deshmukh
PRINCIPAL'S WORD
Principal
Prof. Dr. S. K. Deshmukh
M.E., Ph.D.(Civil Engineering)
 

College of Engineering and Technology, Akola is one of the oldest institutions run by Shri Shivaji Education Society, Amravati, the second biggest Educational Society in the Vidarbha.

It gives me immense pleasure to welcome you to the most Creative and Technical world of COE & T, Akola, which opens the door of professional life you are intended to live in future.
Over all development of students is our prime motto so that they will prove themselves as good member of society and help in building developed society and help in nation building there by.
The emphasis is on imparting sound technical knowledge, training to develop all required skills to face challenges of competitive global industrial market indicating moral values and professional values in the students. The state of art laboratories and infrastructural facilities made effective with galaxy of competent, dedicated, visiting faculty contribute to pleasant and comfortable learning experience.
We believe that Discipline, Determination and Hard work with foresight assures success. You will be a confident and successful technocrat's after four year.
I) Name and Address of the institution
 
Name
COLLEGE OF ENGINEERING AND TECHNOLOGY, AKOLA.
 
Full Address
Babhulgaon ( (Jh) N.H. No-6,Murtizapur Road, Akola,
District:- AKOLA.
 
PIN
444104
 
State
MAHARASHTRA STATE.
 
STD Code
0724 Phone No: 2259024, 2259069
 
FAX No.
0724 2259024
 
e-mail
principalcoeta@gmail.com
 
website
www.coeta.ac.in
 
Nearest Rly.
AKOLA
 
Nearest
SHIVANI, AKOLA.
 
Airport
 
INSTITUTE AT A GLANCE
| | | |
| --- | --- | --- |
| | Year of establishment | 1983 |
| | Present sanctioned intake | 366 (PG + UG) |
| | Land | 36.3 acres |
| | Built up area | 19510 sq. Mtr. |
| | Courses | Engg./..Tech. 5 courses, arch. and PG |
|   |   | [Total = 08] |
1.
Laboratories recognised for research by SGB Amravati university
2.
Class rooms provided with O.H.P.
3.
students have excelled in academics at the university level
 
(merit list & gold medalists)
4.
Active testing & consultancy cell
5.
Machinery donated by industries
6.
Class teacher scheme
7.
Availability of teaching faculty for the students round the clock, 365 days a year Training placement cell.
8.
Novel projects & pro active interaction with industry.
9.
Active participation of faculty members in syllabus framing.
10.
Staff members on the various committees of the university like boards of studies, academic council etc.
 
Performance appraisalsystem for teachers
11.
Students' grievance & progress committee
12.
Illustrious alumni accepted globally, nationalyy in all sectors of industry, research &
academics
13.
Industrial tours & visits to national & international exhibitions
Dress code: student & staff
14.
Identity cards : principal , staff & students
15.
Water harvesting projects
16.
Active NSS unit
17.
COETA Nature Club
18.
COETA Energy Club
OUR ACHIEVEMENTS
Departmental  Achievements
1.

Students opted for higher studies at IIT, UICT, and CIPET Etc.

2.

Departmental Laboratories are recognized for Ph.D. Research program.

3.

Conducting One Year Diploma of Indian Plastics Institute. (DIPP)

4.

Arranging National Seminar (PolyEra, Technothlon etc.), expert talks, Work Shop, Plastic Awareness Program.

5.

Training & Placement, Industrial Tours/Visits..

6.

PLASTINDIA Foundation Scholarship SCHEME for meritorious students.

7.

PLASTINDIA GOLD MEDAL AWARD

8.

Student Association of Polymer Technologist for overall development of students.

9.

QIP for staff in department

10.

Departmental Library and E-Library

11.

Consultancy and testing Cell (Dr. Panjabrao Deshmukh Design and Consultancy Cell)

12.

Departmental Patents

 

Lubricating Gel from Polyolefin waste.
Energy recovery from plastic waste (Down jet Combustion) (Provisional)

13.

Departmental Patents

 

Rubplas  Excellence Award
Shriram Institute for Industrial  research

14.

R & D activities to provided testing and technical services to the industries. Bio-diesel laboratory has been started in Chemical Engineering Department.

15.
Departmental Professional bodies
 

Indian Plastics Institute, Subchapter, Akola.
I.S.T.E.
PlastIndia Foundation
Achievements
| | |
| --- | --- |
| 1. | The society has been a adjudged the best educational and social institution in the state of Maharashtra by Government of Maharashtra year-2000. |
| 2. | Civil Engineering, Chemical Engineering & Production Engineering branches have been accredited by National Board of Accreditation, New Delhi. |
| 3. | College has its own building with lush green environs & the amalgamation of natural magnificence with modern Architectural brilliance suitable for academic environment. |
| 4. | College campus has been visited and appreciated by number of eminent persons from the society, industry, politics and academics including Shri Shardchandraji Pawar, Union Minister of Agriculture. And Vice Chancellor of Amravati University. |
| 5. | Many teaching faculty have completed PhD./ Patent research papers. |
| 6. | Hostels for boys and girls having all sorts of facilities like Inverter, water purification, Hot water, round the clock security, mess etc. Hostels are situated in the heart of the Akola city. |
| 7. | A part form public and Private Transport college provided transportation facilities through its own buses. |
| 8. | Placement and Entreprenurship cell is being independently handled by a senior faculty. |
| 9. | Personality and Language development Programmes are arranged within routine time table for preparation of GATE, GRE, TOFEL, MBA, and other interviews with the help of in house and guest faculty. |
| 10. | Final year students have won prizes in the project / paper competition conducted by various institute.. |
| 11. | Latest soft wares are available in each department. All Departments are connected with inter-net facilities for the use of students and the faculty |
| 12. | For better Industry- Institute interaction, college arranged Agrotech fair & participated in Matarica, TAI, Plast India etc. |
| 13. | Various concrete measures are being taken for best Teaching learning process as per the guidelines of AICTE / NBA. |
| 14. | Captive power generation facilities to provide power back up for the entire campus. |
| 15. | R & D activities to provided testing and technical services to the industries. Bio-diesel laboratory has been started in Chemical Engineering Department. |